---
At least $54 million has been donated by Chinese Communist Party-linked individuals or entities between 2014 and 2019 to the Penn Biden Center for Diplomacy and Global Engagement in Washington at the University of Pennsylvania, according to public records reported by the New York Post, where it was revealed this week that Biden had stashed a trove of classified documents.
(Article by Wendell Husebo republished from Breitbart.com)
The University of Pennsylvania announced it would create the Biden Center in 2017, the same year then-Vice President Biden left the White House. Most of the anonymous donations were given to the Biden Center after the university announced the Penn Biden Center, the Post reported.
According to the Washington Free Beacon, some of the funds were given by Shanghai real estate developer Xu Xeuqing, who reportedly has no immediate connection to the university. In 2011, Xu faced corruption allegations in China but was never charged with a crime. An expert on the Chinese Communist Party (CCP) at the American Foreign Policy Council, Michael Sobolik, told the Beacon that Xu's non-prosecution suggests he has a close relationship to the CCP.
In April, a government watchdog, NLPC's Government Integrity Project, asked the U.S. prosecutor David Weiss to look into the anonymous donations as a part of the DOJ's investigation into Hunter Biden's alleged tax and gun violations.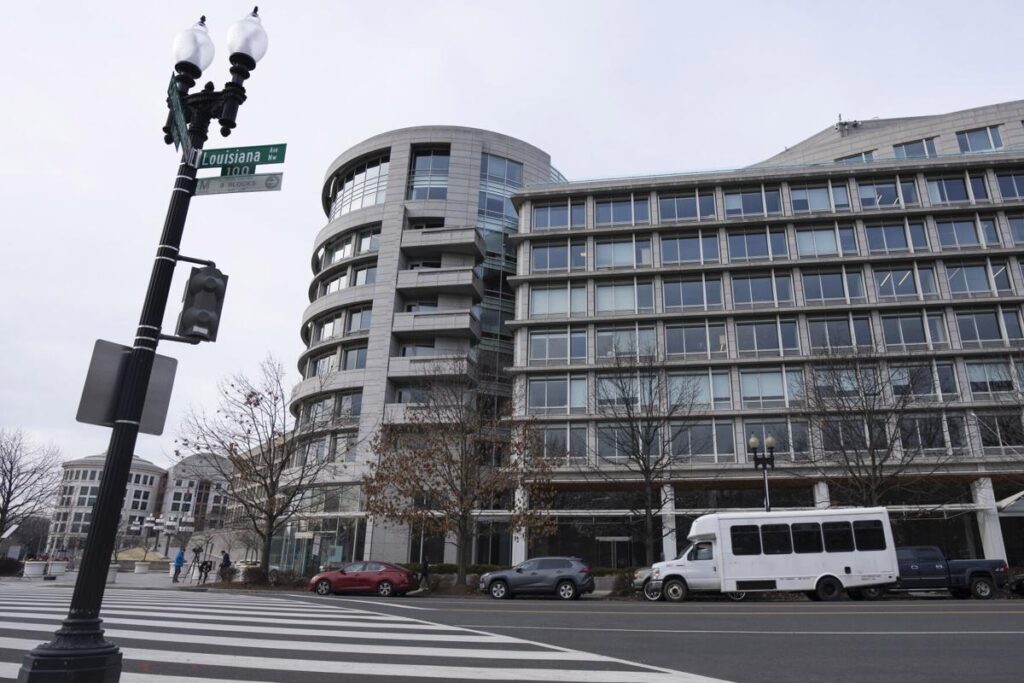 "We've asked … Weiss to pursue the larger network of individuals and institutions who benefited from millions doled out by foreign interests connected to Hunter Biden's work in China and Ukraine," said director of the NLPC's Government Integrity Project Tom Anderson.
NLPC stated in its 12-page complaint that Hunter's laptop reveals a 2017 text linking CEFC China Energy with the Penn Biden Center. CEFC apparently tried to lobby American politicians without registering as a foreign lobbyist. At the same time, Hunter had been trying to work a deal with the CEFC in which Joe Biden would receive a ten percent equity stake in the deal, according to whistleblower Tony Bobulinski, who was Hunter's business partner.
"We don't want to have to register as foreign agents under the FCPA [sic] which … is much more expansive than people who should know choose not to know," Hunter texted Bobulinski on May 1, 2017.
The University of Pennsylvania has denied that the Penn Biden Center received any money from anonymous Chinese donations.
The Penn Biden Center's source of funding is relevant because CNN reported on Tuesday that Biden's stashed classified documents at Penn Biden Center pertain to Ukraine, Iran, and the United Kingdom.
Rep. Elise Stefanik (R-NY), the third highest ranking Republican House member, told Breitbart News that Biden's classified stash at Penn Biden Center raises national security questions:
The fact that former Vice President Joe Biden inappropriately maintained and kept classified materials at his unsecured think tank raises serious questions about national security, particularly when the documents were related to Ukraine when Biden family members were on a Ukrainian oligarch's payroll. The President has declassification authority, not the then Vice President. It is troubling that these documents were turned over to the National Archives on November 2nd, right before the midterm elections, and the corrupt Biden DOJ covered it up for two months.
The Biden family business has conducted many deals in Ukraine. In 2017, Hunter Biden was paid $83,000 per month to be on the board of Burisma, a Ukrainian energy company. Hunter was appointed to the board of Burisma in 2014. He had no previous experience in the energy sector or in Ukraine.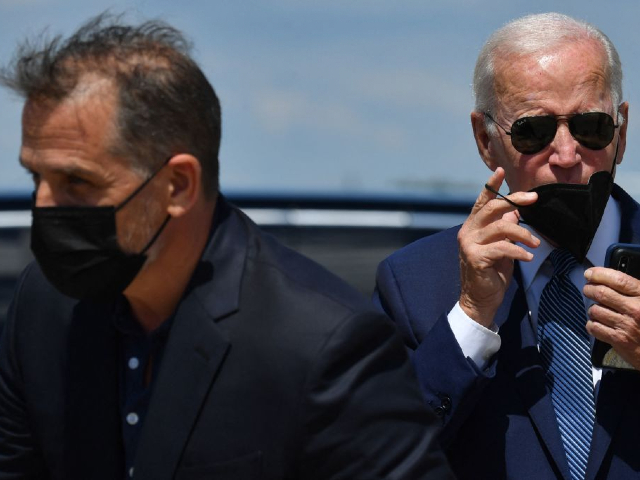 U.S. President Joe Biden and his son Hunter Biden walk to a vehicle after disembarking Air Force One upon arrival at Joint Base Andrews in Maryland on August 16, 2022, as they return from vacation in Kiawah Island, South Carolina. (Photo by NICHOLAS KAMM/AFP via Getty Images)
That same year, Hunter's salary was cut in half when then-Vice President Joe Biden left the White House. Joe Biden visited Ukraine six times in seven years.
In 2015, Joe Biden threatened to withhold $1 billion from Ukraine if the Ukrainian government did not fire the prosecutor who was investigating Burisma.
According to Breitbart News's senior contributor Peter Schweizer, Hunter made massive sums of money from Ukraine for which he "offered no real work."
In 2018 and 2020, Schweizer published Secret Empires and Profiles in Corruption. Each book hit #1 on the New York Times bestseller list and exposed how Hunter and his father flew to China aboard Air Force Two in 2013 before Hunter's firm inked a $1.5 billion deal with a subsidiary of the Chinese government's Bank of China, which transpired less than two weeks after the trip. Schweizer's work also uncovered the Biden family's other vast and lucrative foreign deals and cronyism.
Breitbart Political Editor Emma-Jo Morris's investigative work at the New York Post regarding the Hunter Biden "laptop from hell" also captured international headlines when she, along with Miranda Devine, revealed that the president was intimately involved in Hunter's businesses, appearing to even have a ten percent stake in a company the scion formed with officials at the highest levels of the Chinese Communist Party.
Read more at: Breitbart.com
Submit a correction >>